Directory Report
Easy to use tool for finding duplicate files
Duplicate files are found by any combination of the same:
Name, Size, Cyclic Redundancy Checksum (CRC32) or Comparing byte by byte
Latest Version: 57
Price: $25 US Dollars, payments can be made in other currencies
Unlike other programs, there is only one version of Directory Report
You are never confused on whether to buy a standard, professional or enterprise version
Free Trial Period: 10 days
Trial Version is fully functional
Unlike other programs, the trial program has no limitations
Runs on MS Windows
Directory Report has been downloaded at www.download.com 142,908 times<

Click here to download the installation program
Click here for Purchasing Instructions
Click here to view the End User License Agreement EULA

Demo Movie

Directory Report is the fastest duplicate file finder program
The duplicate files search is multithreaded - making it very fast
It uses multiple passes and many search optimizations which quickly eliminates non-duplicates
This will greatly speed up your search especially when scanning hundreds of thousands of files

What sets Directory Report apart from all other duplicate file finding programs?
When you find a duplicate file - you might not know if it is safe to delete.
Just right click the file and select: Display in Main Window
The file is displayed with all the other files in its folder - just like the MS Explorer
This way you will be assured that it is safe to delete it
Directory Report has these must have features
Directory Report lets you select any two files and do a binary compare
It will show which byte they differ
If the files are text, you can do a line by line compare
It will show you a side by side diff of the textual difference
You double click on any file to view it in its default program
So you can verify duplicate photos
Do not buy any duplicate finding program if it does not have these features
You can select files to be used a duplicate filter
Thus only files which are duplicates to these filter files will be shown after scanning your root directories
This will save time in searching for duplicates in an entire disk
For example: Find all duplicates to files that are on my CD
You can speed up finding duplicates based on CRC by preloading CRCs from a file.
This file will contain a list of files and their CRC
This is useful for files that never change (Example: CD or DVD)
Directory Report is enterprise ready and scalable
The 32 bit version can scan 9 million files
The 64 bit version can scan unlimited number of files
Directory Report can show you who the file's owner is
Useful info when you are searching for duplicate files on a network drive
How can you verify that two files on two computers (not connected over a network) are identical?
Run Directory Report on both computers and generate the file's CRC
If the CRCs are identical and the sizes are identical, then the files are identical
CRC-32 is used by WinZip and WinRAR to verify files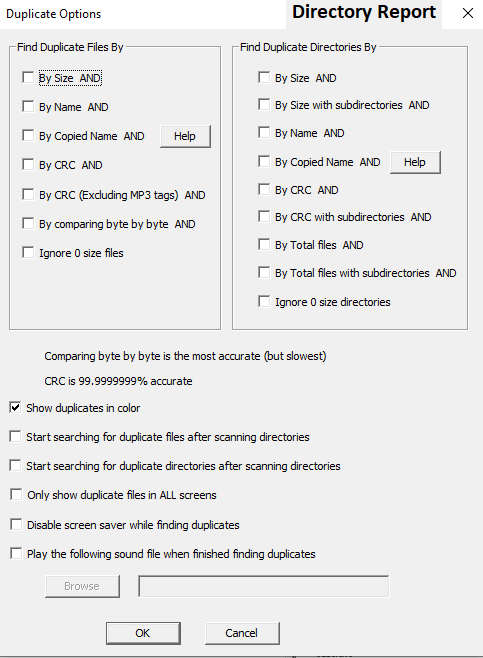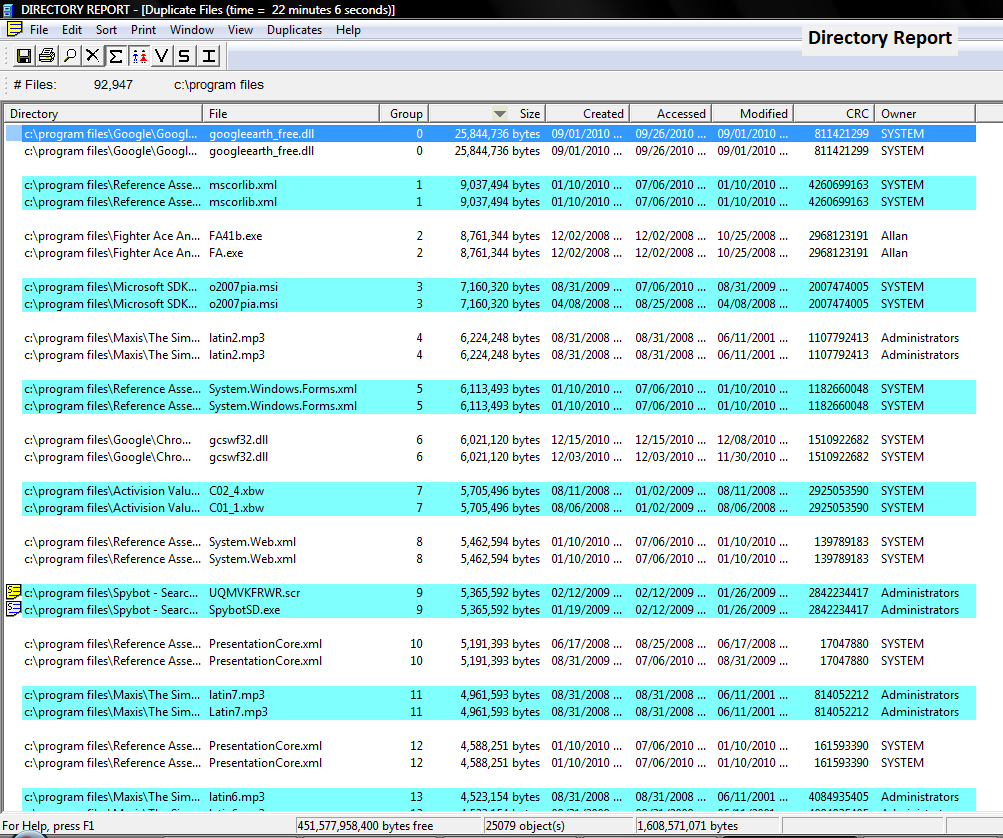 Directory Report has many ways of helping you select which duplicates to keep and which duplicates to delete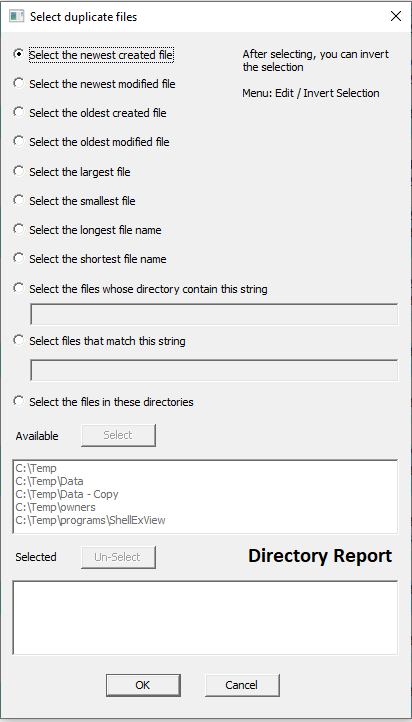 Verification
If you want to be sure that you have a true duplicate and not a false positive, then:
1 Select any two files
2 Right click and select: Diff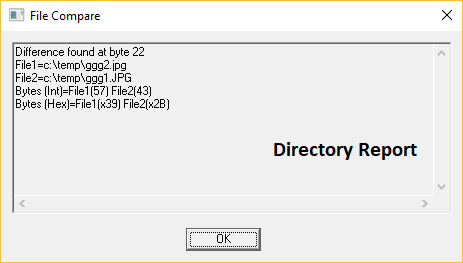 or if they are the same

Purchases of Directory Report are made with FastSpring.
FastSpring is a leader in Digital Rights Management.
They enable the licensing of many downloadable games and programs
Their support is excellent

For any questions about the program please contact the author at webmaster@file-utilities.com